Superior Quality
Over 100 years combined experience in trailer design and production.

Custom Design
Skilled engineers will work with customers to ensure they receive a product that suits their specific application.

Detailed Quote
Our sales team will provide customer with detailed drawings and comprehensive account of orders.
Product Types
Providing Leading Services
Scheltema Trailer is ISO complient as well as CWB certified to CSA standard W47.1 division 2.1.
Scheltema Trailer takes pride in going above and beyond the industy standard when it comes to trailer design and manufacturing. We begin with carefully selecting the best raw materials and components to ensure longevity and consistent quality. All deck framing, detachable necks, jeeps, and stingers are 100% T1 steel with a minimum yeild of 100,000 PSI. Decking on detachable products is a minimum of 2'' thick solid oak. All hydraulic cylinders are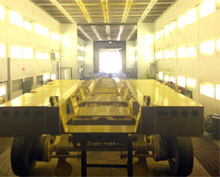 manufactured in house to exacting standards to ensure more stringent quality control. In addition, all hydraulic hose fittings use "O" rings rather than flange-type fittings to ensure a tighter, longer lasting seal. Brake systems are standard with type 30/30 chambers, dust sheilds, and automatic slack adjusters. All Scheltema Trailers undergo a prep and paint system comprised of complete sandblasting, epoxy primer and two coats of acrylic enamel which is applied in our fully functional paint booth. The entire process from design to the finished product is complete in house at Scheltema Trailers facilities.
Quality Guarantee
Since 1977 Scheltema Trailer has Manufactured "Quality" Custom Built Trailers for the Heavy Haul Transportation Industry all across Canada, the USA and for "Export" to other countries around the world. Scheltema Trailer's customer satisfaction and success is based on years of extensive experience providing "Custom Built Trailers" for the Heavy Haul Industry. This includes and is not just limited to the, Agricultural, Bridge, Demolition, Road Construction Industries, Machinery Movers, Military, Mining, Oil Field, Construction and Power Generation Industries to name but a few that we have dealt with over the past 35 plus years of being in the business.